When operating in the field, speed and stealth are essential to survival. RIPSHEARS gets tactical with our line of high-quality, CE-approved, fully assembled surgical stainless steel shears with a black Titanium Carbo-Nitride (TiCN) coating.
RIPSHEARS will easily slice through multiple layers of clothing, boots, leather jackets, denim, wetsuits, chemical biological and radiological suits (CBR), bandages, sports wraps, plastic packaging, seat belts and much more! Now available in Black, Coyote, and OD Green.
Assembled in the USA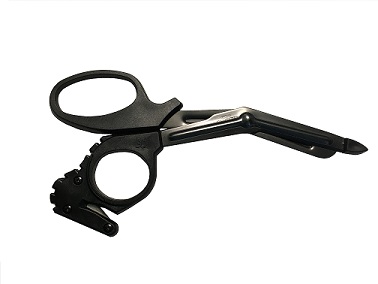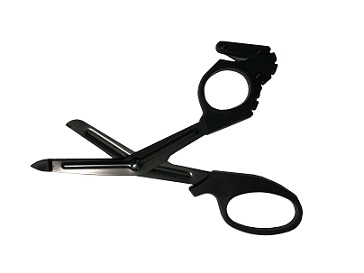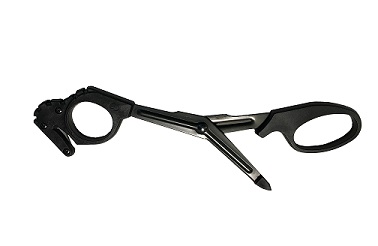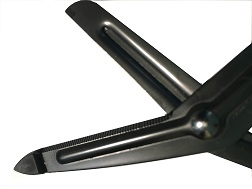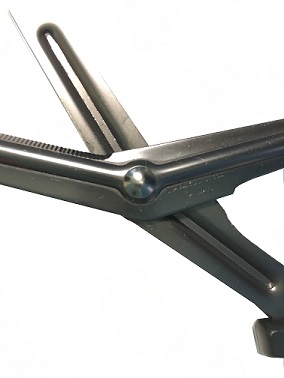 RIPSHEARS RS-4 MINI is a compact hook-knife and trauma shear combo that is small, light and tactical. Our patented designs are made to employ rapidly when time maters. Perfect for medical blow out kits and EMS professionals that need to carry smaller tools.
Our MINIs are "built to survive". Our signature Titanium Carbo-Nitride (TiCN) bonded shears and GF13% nylon handles will stand up to the toughest field conditions. Paracord, shoe laces and clothing don't stand a chance.
Have you ever worked an accident scene at night and lost your trauma shears after you put them down for only a second? RIPSHEARS FIREFLY glows in the dark to prevent first responders from losing yet another pair of trauma shears. Additionally, it can act as a safety feature indicating to other people where you are when working a scene at night.
RS-3F: High-Vis Orange handled shears with a Black Titanium Carbo-Nitride (TiCN) Coating on the blades. With our Glow in the Dark Ripper.
RS-3P: High-Vis Pink handled shears with Gold Titanium Nitride (TiN) coating on the blades. With our Glow in the Dark Ripper.
Assembled in the USA
The Ripper (RS-1) unit will bolt onto most sets of standard 7 1/4" trauma shears turning them into a virtual juggernaut! There will be no need to waste time digging through your bag to find the right tool because now you will have four tools, right in the palm of your hand.
Our Ripper is made with glass infused nylon to increase its durability. We have also improved our design by adding square flanges vs the previous hexagonal version. This is a significant improvement from previous models because it helps prevent stripping and/or loss of screws.
Confirmed fit on following 7 1/4 models: ADC Medicut Shears (SI135, IS0020M, IS0020N & IS0020OJ, CMS Mojo Shears, Mueller Shears.
Note: RIPPER is not compatible with Clauss or NAAR shears
Made in the USA
Our new holsters are made with highly durable .80 mil Kydex and are built to last. Our holsters come standard with M.A.L.I.C.E clips, which allows for easy attachment to any belt, Molle and/or body armor. We have specially designed our holsters to allow you to not only rapidly deploy your shears, but to easily stow them away just as easy.
RSH-B: Black Holster color matched to RS-2B RIPSHEARS
RSH-T: Coyote Holster color matched to RS-2T RIPSHEARS
Made in the USA
Replaceable blades (RS-Blades) made from 440A surgical-grade stainless steel for durability and corrosion-resistance, receive a proprietary treatment to improve cutting ability and edge retention, making them last 5x longer than standard carbon steel blades.
Replacement blades fit all RIPSHEARS products, RS-1, RS-2 and RS-3.
Made in the USA